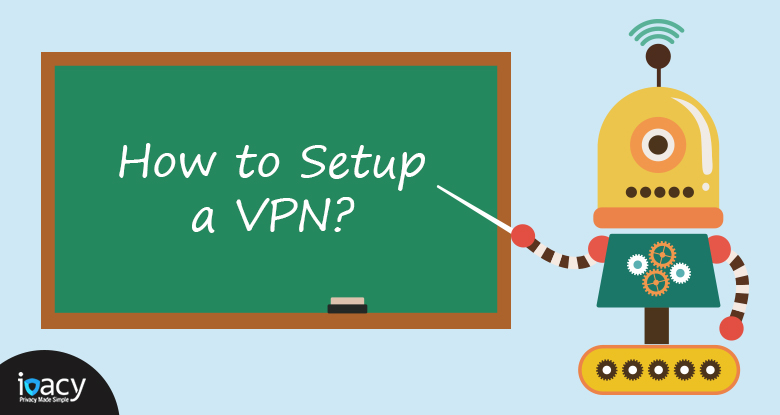 A Virtual Private Network (VPN) is a protected method of joining a remote computer or several devices to a secure server. With a geologically scattered network that requires the highly delicate personal and commercial details to be available utilizing a normal connection; typically an open Wi-Fi hotspot is just not safe for business usage.
All VPNs work pattern is identical. They create a secure pathway between a computer, tablet or a smart phone for example, and your company's servers which could either be in your vicinity or in the cloud. The complexity level you require in selecting the appropriate VPN would rely on the amount of remote devices you wish to connect.
We have all now established what VPN's are, however most of us are not that tech-savvy and would like to know how we can use this cool thing. However don't you worry, we have got you covered in that aspect. In this really simple step by step guide, I'll let you know how to setup a VPN- both on Windows and Mac.
*Moreover, if you require any assistance setting up Ivacy VPN, you can click here.
How to Setup a VPN (Windows):
Step 1: Firstly, Know your IP address. In case you don't know it, locate your IP address and if you are not certain as to where it appears, find it out quickly by visiting whatsmyipaddress.com and save it.
Step 2: Go to Control Panel using the start menu and open your network and sharing centre, in the network and internet menu.
Step 3: Once you are in, select "Set up a new connection" and then select "Connect to a workplace" and select your VPN server, enter your IP address in the required field and move forward.
Step 4: It will then ask for your username and password. Fill in the required details and hit connect and it will attempt to connect and, Voilla! There you have it. This is how to setup a VPN. Simple, no?
How to Setup a VPN (Mac):
Let us all now enter the magical world of Apple. How to set up a Mac VPN. You'll find out soon enough, Read on!
Step 1: The first step is the same, know your IP address like the back of your hand and in case you don't know, find out by visiting whatsmyipaddress.com and note it somewhere safe.
Step 2: Open your system preferences and choose Network beneath the Internet and Network icon. You'll then see a + sign at the bottom left, click on it and choose VPN from the now appearing menu, select the type of VPN and select Create. Once done, you'll see this new connection in your network list.
Step 3: Select your newly created VPN network from the pane and fill in the required fields, once done click "Apply" to save your VPN settings.
Step 4: Once the Network creation is successful, you will see a new icon in your menu. You can simply connect your VPN by clicking on this new icon and selecting "Connect VPN".
Setting up a VPN is fairly easy however choosing your VPN isn't, you are required to select and maintain your VPN wisely as it will be responsible for the encryption and handling of your business's sensitive information.
Some famous VPN Protocols:
Open VPN: This is definitely an excellent option since it's more stable and because of an open-source nature, it can easily work with any VPN software with a little modification.
PPTP VPN: It stands for Point to Point Tunneling Protocol; it is most widely used as it is compatible with all the mobile operating systems in addition to Windows and MAC.
IPsec and L2TP VPN: It stands for Internet Protocol Security and Layer to Tunneling Protocol respectively and it is a bit complicated to set up these VPNs however they are safer than PPTP.
So, assess your business requirements carefully before you go ahead and choose a VPN. We would suggest to not get yourself involved in all the hassle and get peace of mind by opting for Ivacy VPN – the best VPN service on the web. Once you download Ivacy VPN, it's all a click-and-go-experience from there onwards.
And if you think you need further assistance, view the setup guides of Ivacy VPN.