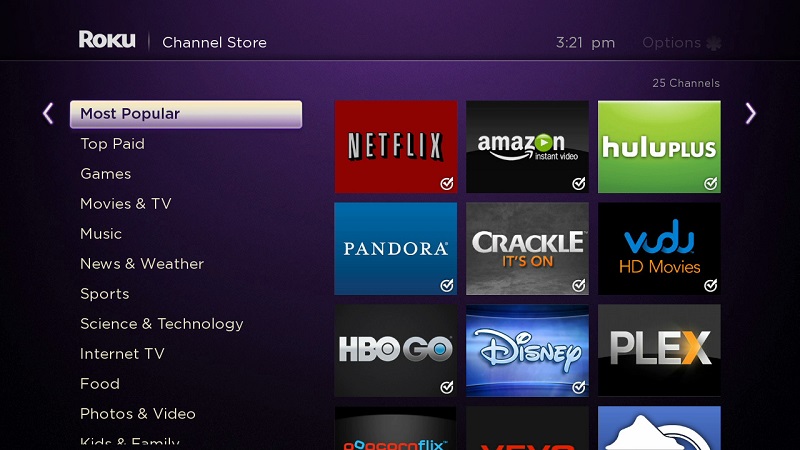 Table of Contents:
Roku devices have become immensely popular among cord-cutters around the world. That's because if you have a Roku device then you can watch all your favorite shows, movies, anime, sports and much more right on the biggest screen in your home simply if you setup Roku VPN.
That's right! There is tons more you can do with your Roku device and that you can actually unlock any content anywhere with Roku? Yes, that's right! With a VPN for Roku, you can unblock the full potential of your Roku device.
Subscribe to Ivacy – The Best Roku VPN
Get Ivacy, the best VPN for Roku out there and stream all your favorite movies, TV shows and much more right on your Roku device. Unblock any content anywhere on Earth without ever having to worry about DMCA notices!
Updated 21 August, 2023: This blog has been updated to reflect ways to choose the right VPN provider, troubleshooting tips as well as ways to ensure smooth
Does Roku Support VPN?
Even with all the power packed into this little box, Roku does not support custom installation of applications. So installing a VPN on Roku is out of the question. However, you can MANUALLY setup VPN for Roku through a router to unblock geo-locked content anywhere in the world.
The process isn't all that simple but we'll try our best to cut it down to the basics for you. So here's what you need to do to setup VPN Roku.
Choosing the Right VPN Provider
Selecting the right VPN provider is crucial for a seamless Roku VPN setup. Look for a provider with the following features:
Strong encryption and security protocols.
A wide range of server locations.
Fast and reliable connection speeds.
Support for router installation.
Ivacy VPN offers all these benefits and more for all of its users. 
How To Setup Roku VPN
Roku doesn't really support all that many applications so it's almost impossible to actually "install" a VPN on the device. You can, however, setup a Roku VPN and stream all your favorite movie, TV shows, and content by following either of the following methods.
Method 1: How To Setup VPN On Router
Once you have successfully setup VPN on your router, any device that you connect to that router will automatically share the VPN connection. Here's how you can setup VPN Roku via router:
Make an Ethernet connection or a wireless connection from your router to your computer.
Click on Basic Setup>Connection Type>PPTP.
For 'Use DHCP' option, click on 'Yes'.
In 'Gateway (PPTP Server)', type server name and enter 'Username' and 'Password' in the fields. Enter 'refuse-eap' in additional PPTP option field.
Go to 'DHCP Server' and 'enable' it.
Select 'Apply Settings' and press the 'Save' button.
Click on menu bar and go to Status>WAN>Connect.
You are now connected with Ivacy VPN.
Before you setup VPN on Roku, make sure that you subscribe to Ivacy and get the best VPN deal in town. Ivacy is now offering its 1-year plan for an unbelievable $49! But wait, there's more! With the 1-year subscription, you get an additional year of amazing service absolutely free! So you get two years for the price of one!
So make sure you don't miss this limited-time offer and subscribe to Ivacy now!
With Ivacy, you can watch the latest movies, TV shows, anime, sports and live TV right on your Roku device. With more than 200 servers in over 100 locations across 50 countries, Ivacy gives you the can unblock any content anywhere in the world. And that's exactly Ivacy is the best Roku VPN out there!
Method 2: How To Setup VPN On Virtual Router
If your computer has more than one Network Interface Cards then you can even setup VPN Roku using a virtual router. Here's what you need to do:
Connect internet modem to ISP connection
Connect router's WAN port to modem
Connect router's LAN port to Network Interface Card 1
Connect Network Interface Card 2 to Roku box
Once you have setup Roku VPN, you can stream region-locked content from anywhere and catch all the live action on the biggest screen in the house! Watch all your favorite TV shows, the latest blockbuster movies, the most trending music, the most epic anime, and the best live TV experience at home with a Roku VPN.
With a VPN for Roku, you can literally untap the full potential of your Roku device and watch virtually anything from anywhere in the world.
And Ivacy gives you much more than that, keeping you anonymous and safe online so that you don't fall under DMCA scrutiny. So if you're looking for the best Roku VPN then subscribe to Ivacy now and get the best Roku streaming experience.
Troubleshooting Tips
Tip 1: Ensure Compatibility
Before proceeding, ensure that your router is compatible with VPN configurations and that your VPN provider supports router-level setups.
Tip 2: Restart Devices
If you encounter connectivity issues, try restarting both your router and Roku device. This can often resolve temporary glitches affecting the VPN connection.
Tip 3: Check Router Firmware
Outdated router firmware can lead to compatibility problems. Check for firmware updates and install them if necessary before setting up the VPN.
Tip 4: Try Different VPN Servers
If one VPN server isn't providing stable connectivity, try connecting to a different server. Choose one with lower traffic for better performance.
Tip 5: Disable VPN on Roku
In rare cases, Roku might have trouble connecting via VPN. As a last resort, consider connecting Roku without VPN to see if the issue is related to VPN settings.
Ensuring Smooth Streaming with Roku VPN
Opt for a VPN server with low latency to minimize buffering during streaming.
Regularly update your VPN software and router firmware for optimal performance.
Avoid using free VPNs, as they often come with limitations and might not provide the security you need.
Conclusion
Setting up a Roku VPN offers a range of benefits, from online privacy and security to accessing content from around the world. By following the step-by-step guide and choosing a reliable VPN provider, you can ensure that your streaming experience remains not only enjoyable but also secure. With your Roku now connected to a VPN-enabled router, you're ready to explore a new world of entertainment while keeping your personal information safe from potential threats.