How to Configure VPN on a Router?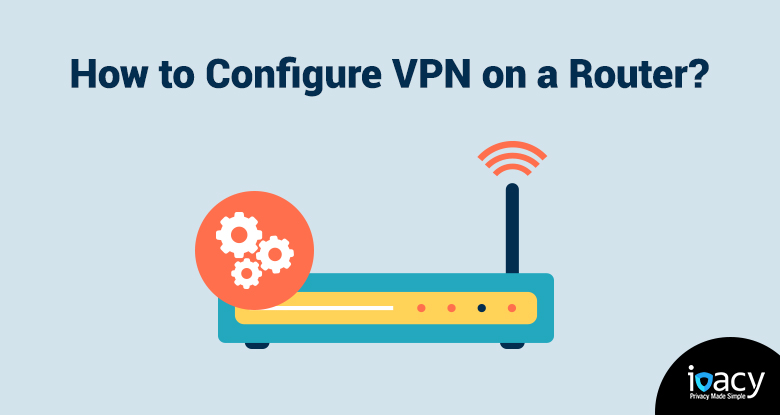 Table of Contents:
In this tutorial, you will learn about setting up a VPN router on your system. There are many best VPN routers available, but you have to choose the best one for your own system. Before going into details about setting up a VPN router, we will quickly describe to you first what a router actually is, just in case you didn't know about it.
What is a Router?
A router is a networking device that is used to transfer, or one can say, put forward the packets of data that are received from a computer to another computer that is placed at another location. For a router to work effectively and efficiently, you need to have two end-points. These end-points can be two local area network connections (LANs), wide area network connections (WAN), or two separate computer systems that you can use to connect a router to. Once connected, a router uses headers and labels to forward the data packets toward the right path.
What is a Virtual Private Network (VPN)?
A Virtual Private Network (VPN) is a type of network of computers that facilitates you to share your data with other users online, while remaining anonymous. In addition to sharing files, you can also live-stream your favourite online TV shows, movies, songs, games while using a VPN connection.
A VPN essentially hides your original IP address
with a pseudo IP address and encrypts the data to be transferred, so that nobody can decipher the data, and then uses a secure tunnel to facilitate the smooth transference of the data. This secure tunnel ensures that your data remains hidden and safe from the evil clutches of online spying agencies, hackers, cybercriminals, and surveillance agencies.
How does a VPN Router work?
A router is a device that joins devices and/or networks together and routes traffic between them. A VPN is configured on a router to convert it into a VPN router. By using a VPN router, you can easily tunnel the data traffic, for which your VPN service provider does not provide any VPN connection. Configuring a VPN on a router means that you don't have to configure the VPN on each of your systems within the network.
Benefits of a VPN Router
Just in case you are wondering why you should go through the hassle of configuring a VPN on your router, let's take a look at the benefits that lie in store for you:
When connected to a VPN server, your original IP address is replaced with a new one. Since your original IP is masked, your ISP will not able to throttle your bandwidth. In this way, you will get unlimited bandwidth, and you will not have to worry about dealing with buffering or stuttering issues while streaming your favourite content.
Overcome Geo-Restrictions
Just because you can access the internet does not mean you can access it in its entirety. Internet users in general have to deal with geo-restrictions. Geo-restrictions prevent internet users from accessing content from other regions. Fortunately, this can be solved by using a reliable VPN. If a user wishes to access content from the US, they simply need to connect to a US VPN server.
Unblock Streaming Platforms 
Popular streaming platforms offer limited content to users from different regions. For instance, Netflix users in France will not have access to content that would be available on Netflix US. To overcome this problem, a user can use a VPN to connect to different regions to unblock their favourite streaming platforms.
Get Amazing Deals and Discounts 
Users that want to get deals and discounts from other regions can connect to a VPN server from that region. Also, users can get amazing prevent hotels and airlines from increasing prices whenever they visit their respective sites by using a VPN for every time they visit.
Configuring a VPN on Router for your System
Now that you have become familiar with how a VPN router works and its benefits, it's time to learn about configuring it for your own router. It's not that difficult, but you need to be careful while configuring it for your system.
Do remember that NAT firewall settings do not necessarily work fine with the type of VPN protocol you tend to select for your system. The NAT firewall components perform rather poorly when your system is connected to a PPTP VPN, L2TP VPN, IPSec VPN etc. Therefore, you have to be considerate.
For this tutorial, we have used a DD-WRT Router.
Wait! If your router does not have the DD-WRT, then you have to flash your router with DD-WRT. Be really careful when flashing your router. A slight carelessness in handling the process can ruin your device for good.
You can flash your router by using any one of the three methods mentioned below.
By using a web-based user graphic interface
By using a file transfer protocol
By using command line operations
The configuration process involves taking the following steps:
Plug in your ADSL wire into the WAN port of your VPN router. Plug in your computer's cable into one of the available LAN ports of the router.
Ensure that your VPN is fully functional. Otherwise, talk to the support team of your VPN service provider.
Go to the control panel of your VPN router and enter all the specifications provided to you by your VPN service provider. Do ensure that your WAN IP address and LAN address are correct.
Click on the 'Setup' tab, and then click on the 'Basic Setup' sub-tab.
You will need to provide your hostname, domain name, router IP details, (including local IP address and Subnet Mask).
Select your 'Connection Type'. Usually, you will select the PPTP protocol. Check if your router VPN will be using DHCP or not.
Type in the Gateway, Username, Password, and click 'Apply Settings'. Click 'Save.'
Click on the 'Status' tab. Click on the WAN sub-tab.
Check the 'Login' status. Click 'Connect.'
There you go! You have now configured your VPN router. You're good to go now.