What Is Torrenting? | How To Download Torrents In 2022? Torrents Defined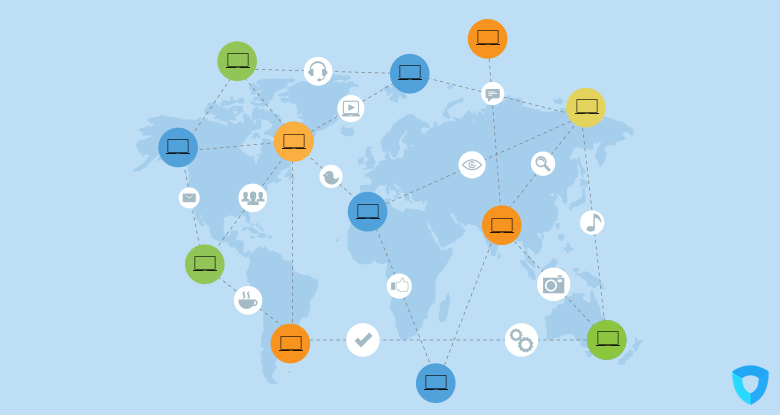 Table of Contents:
Do you want to download your favorite movies at blazing fast speeds? Do you like to share many memorable photographs with your friends? Do you want to download the game that you love to play in your spare time? Most importantly, do you want to be able to do all this for FREE?
If the answer to all these three questions is a big YES, then torrenting is something you should be checking out. In this detailed guide, we shed light on what this insanely popular, yet controversial phenomenon is, and how it works exactly.
You may consider checking out a list of the top torrent sites and choosing one of them – all of whom have been carefully vetted and tested by our team before making them a part of the list.
What Is a Torrent?
The term "Torrent" might refer to the metadata files related to the files and folders to be downloaded. A Torrent file does not contain the actual content you are downloading, but only the information regarding those files,, such as their names and sizes.
Torrents serve as fast and reliable protocols allowing users to download and share large volumes of data.
What Is Torrenting And How Does It Work?
Torrenting usually refers to the process of downloading data through Torrent clients – file transfer protocols that break down large files into many bits and later connect those bits together. One example of such a file transfer protocol is BitTorrent,, which helps users download and share data, including files, movies, games, etc.,, via a peer-to-peer network, without affecting the web servers' performance.
Torrenting works by using centralized servers to download files,, and each participant in this file-sharing activity is engaged in downloading and uploading files. In other words, all Torrent users rely on each other to successfully carry on the file transfer activity. Essentially, you are sharing the file being downloaded while it is still in the process of downloading, without having to wait for the whole file to download.
History of Torrents
Torrents also enhance your Torrenting experience as they work best with VPN service providers. Using a P2P-enabled torrent VPN will make your file-sharing activity safer and more secure than ever while also letting you experience fast torrent downloads.
The Risks of Torrenting Without a VPN
Torrenting without a VPN exposes your online activities, including the websites you visit and the information you view, to your internet service provider (ISP). ISPs are permitted to disclose this information with third parties, including intellectual property owners, in certain countries, including the United States.
Risk of Getting Caught
Torrent users have been prosecuted on a periodic basis. The chances of going to court or having to pay a settlement are minimal, but the consequences can be severe. The number of lawsuits filed by copyright holders against torrenters for copyright infringement rose in the late 2000s. Copyright pirates were sued for exorbitant sums of money, and the majority of cases were settled out of court.
Because they were depicted as petty millionaires harassing impoverished college students, these public scare tactics reflected negatively on the recording and film businesses. Direct lawsuits are becoming less prevalent, but the fight against torrenters is far from ended.
What are Copyright Trolls?
The task of pursuing individual copyright thieves has now been delegated to a rising number of tiny organizations known as copyright trolls. Using their genuine IP addresses, these organizations track down torrenters who unlawfully download copyrighted information. They then approach the copyright holders and sign an agreement authorizing them to initiate legal action on their behalf. Others are directly employed by Hollywood film corporations to track down pirates.
The copyright trolls then go after tormenters by mail, email, or even going door to door and handing out settlement letters, armed with legal leverage and a list of names. These letters do not constitute legal papers or injunctions. Copyright trolls intimidate, scare, and ridicule torrenters into paying without ever going to court. That makes the $3,000 seem reasonable, but going to court is expensive and hazardous for them, so don't give in if you receive such a letter.
FAQs
How to spot fake torrent files?
Here are a few actionable tips you can follow to spot fake torrents and stay away from them:
Check the Seeder/Leecher Ratio
Always go for the healthy torrents – the ones with a higher number of seeders and leechers. For instance, when a torrent has 2,000 seeders and 1,200 leechers, it's a good sign,, and the download will be as fast as the internet connection allows it to be.
It is a good idea to go for the torrent that has the highest seeder/leecher ratio..
Stay Away from WMA and WMV Files
Most of the video files you download will come with the AVI or WEBM extensions. In case you come across movie files with WMA or WMV extensions, know that they are fake because both of these formats are obsolete and no longer in use. Seeing these file types should ring the alarm bells for you.
You need to be careful with RAR, TAR,, and ZIP files and run them through an anti-virus. Some torrents are located in a single RAR file,, and there's a high chance of malware getting launched with such files and infecting you. Moreover, EXE files are another way malware can creep into your PC's registry as they can be used to hide malicious code.
Whenever you encounter a file with the above-mentioned file types, note that movies, music, and TV shows don't have anything to do with them. Therefore, if you have downloaded media content and such a file extension opens up, it's a major red flag. In such a case, you need to delete the torrent altogether instead of opening it up.
Why can't I download torrent files on my iPhone?
Since Torrenting is strongly associated with piracy and copyright issues, Apple doesn't allow torrent clients such as BitTorrent or uTorrent on its app store. However, check this guide for complete knowledge.
Why a file or torrent does not start downloading?
The main reason why your Torrent may not begin downloading is due to a lack of seeders and leechers owing i.e., if the torrent is a new addition. However, seeders and leechers eventually start increasing on top sites such as PirateBay. If the Piratebay is not working,, here are some Piratebay Alternatives that are working perfectly fine.
Final Thoughts
We have now reached the end of this tutorial. This is the first article in a series of tutorials aimed at helping beginners use torrents to their advantage. We hope that you will find it an interesting read. Do not hesitate to contribute to these tutorials for beginners with your valuable ideas and suggestions in the comments section.