How To Watch Lomachenko vs Lopez Live Online FREE!
Table of Contents:
Four belts,

ONE

champion!
Vasiliy "Loma" Lomachenko (the pound-for-pound "Boxing Baryshnikov" from Ukraine) is all set to face his most formidable rival yet – Teofimo Lopez – the Honduran knockout artist from Brooklyn. Lomachenko vs Lopez lightweight title unification fight is all set for October in Las Vegas.
But, you're probably wondering:
"How to watch Lomachenko vs Lopez live online FREE streaming?"
Read on to FIND OUT!
Breaking: Vasiliy Lomachenko and Teofimo Lopez have agreed to terms for a lightweight title unification fight in mid-to-late October, sources tell @TheAthletic. Great progress made toward the fight headlining ESPN rather than PPV. Can't wait for this onehttps://t.co/1rUVZkf8aT

— Mike Coppinger (@MikeCoppinger) August 13, 2020
It's really important for the sport of boxing to get back to big fights. @VasylLomachenko vs. @TeofimoLopez is certainly one of the GREAT fights.

Thanks to @espn, the #LomaLopez showdown will be shown without any additional charge to the public. A huge night for the sport. pic.twitter.com/Yl1N3W7PUp

— Bob Arum (@BobArum) September 8, 2020
How To Watch Lomachenko vs Lopez Live Full Fight Online
Before discussing the fight further, let's have a look at how you can watch the Lomachenko vs Lopez live online FREE anywhere you are.
There are two ways of accessing the Lomachenko vs Lopez live stream:
1- ESPN US
2- ESPN MEXICO
Unfortunately, ESPN has placed geo-restrictions on its content which prevents sports fans from across multiple regions from streaming.
If you live in a region where the Lomachenko vs Lopez live streaming channel is blocked, you will come across an 'Error' message every time you try to access Lomachenko vs Lopez live stream online on ESPN:
You will need to use a reliable and trustworthy VPN service that has servers all across the globe to gain access.
However, you need to steer clear of Free VPNs, because since they don't charge you anything, they tend to profit off of your data. Always go for a PREMIUM VPN!
Here is what you need to do:
Subscribe to a premium VPN service.
Download its VPN app on your devices.
Connect to a VPN server from a region where the match will be live.
Stream Lomachenko vs Lopez live online FREE with ease!
---
This highly anticipated and much-awaited lightweight championship unification showdown could turn out to be a modern boxing classic. It will mark the biggest boxing event of the year 2020 – apart from Fury vs Wilder II, of course.
With pay-per-view not being an option, the fight match will be broadcasted live on ESPN and will play to the broadest possible audience.
Lomachenko vs Lopez Trailer Preview
Lomachenko VS Lopez Fight Date
The fight was long-planned but kept getting delayed due to the COVID-19. However, now the contracts have been signed, and Lomachenko vs Lopez will be the biggest fight of the pandemic.
So, when will this much-awaited bout take place, and what is the Vasyl Lomachenko vs Teofimo Lopez fight date?
A  lightweight king will be crowned on Saturday, Oct. 17.
Lomachenko VS Lopez Fight Location
The fight will be held at the MGM Grand Hotel & Casino, aka the "Las Vegas Bubble." in Las Vegas.
Lomachenko vs Lopez Tale of the tape
You may want to get your odds to determine the winner of the match before it goes down and the only way to do so is to compare each boxer's "tale of the tape."
| | | | | | | | |
| --- | --- | --- | --- | --- | --- | --- | --- |
| | Career Record | Knockouts | By Decision | Age | Height | Reach | Stance |
| Vasyl Lomachenko | 14-1 | 10 | 4 | 32 | 5′ 6″ / 168CM | 65.4″ / 166CM | SOUTHPAW (L) |
| Teofimo Lopez | 15-0 | 12 | 3 | 23 | 5′ 8″ / 173CM | 68.5″ / 174CM | ORTHODOX (R) |
Lomachenko vs Lopez Betting Odds
| | |
| --- | --- |
| Fighter | Odds |
| Vasiliy Lomachenko | -365 |
| Teofimo Lopez | +275 |
With (-365), Lomachenko is the favorite, and Teofimo Lopez coming with a (+275) is an underdog. It means that betting $365 on Lomachenko could get you a profit of $100 while betting a $100 on Lopez could make you $275.
Lomachenko vs Lopez Fight card
The full fight card for fights that fans will be treated with along with Lomachenko vs Lopez live has not been announced yet, but we will be updating it here, soon as the details emerge.
Lomachenko vs Lopez Predictions: What To Expect
The undefeated Teofimo Lopez is known for his brawling style and heavy-duty punches.
As opposed to Lopez, Lomachenko utilizes his extraordinary footwork, speed, and relentless pressure to outbox his opponents, earning the nickname "The Matrix" given his advanced technique and ability to stay one step ahead of his opponents. Lomachenko has made many world-class champions look like amateurs.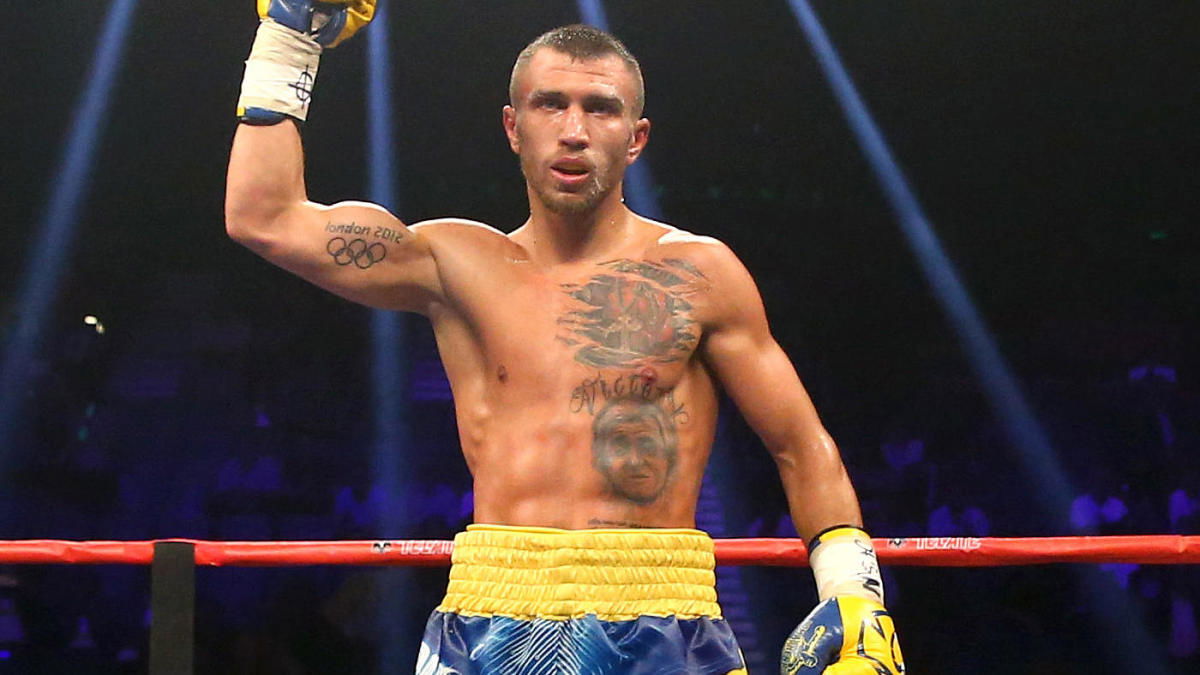 Teofimo Lopez vs Lomachenko analysis says that Both fighters will deploy completely different approaches. Lopez will look to catch Lomachenko early in the fight with one of his power shots. The latter will look for an opportunity to apply his usual pressure and pick his opponent apart as the war advances to the later stages. There is a huge contrast in their styles of fighting.
However, it looks like a gigantic task for Lopez given Lomachenko's stature, since he isn't just the best 135-pound boxer but the best pound-for-pound prizefighter in the world. Lomachenko is the
FAVORITE!
Lomachenko vs Lopez Purse
Lopez initially didn't accept an initial offer of $1.25 million, considering it too low. However, he will be making $1.5 million since Lomachenko has agreed to pay him $200,000 out of his purse.
It needs to be noted that both the fighters won't be making as much they should given the absence of a live audience and the revenue lost because of it.
Source: Bettinginsiderjournal
Lomachenko vs Lopez Poster
Lomachenko vs Lopez fight poster released recently and is quite different from traditional posters.
Key Fighter Facts
As we said earlier, odds heavily favor Lomachenko and Lopez appears to be the underdog, and the below-mentioned facts support this analysis for Lomachenko vs Lopez live.
Vasyl Lomachenko
Lomachenko next fight is preceded by a sensational decision win over the British star – Luke Campbell
Three-weight world champion (WBO/WBA/WBC)
Two times Olympic gold medalist with a record of 396-1 as an amateur
Having been ranked as one of this era's most successful pugilists, he forced four fighters to consecutively quit from 2016-17.
Tiofimo Lopez
Turned Pro in 2016
2018 Prospect of the Year
Teofimo Lopez next fight with Lomachenko comes after knocking out Richard Commey in 2 rounds to become the IBF world champion (has held the IBF lightweight title since 2019)
Emerged on top in the 2019 world rankings with victories over Diego Magdaleno, Edis Tatli, and Masayoshi Nakatani.
On Oct 17, It Won't Just Be Lomachenko & Lopez Testing Their Mettle But Their Dads Too!
Forget @VasylLomachenko vs. @TeofimoLopez. Junior vs. Papachenko is the Battle Royale of Boxing Dads. #lomalopez pic.twitter.com/FgMsKhoT6V

— Mark Kriegel (@MarkKriegel) October 15, 2020
No Love Lost Between Lomachenko and Lopez
Lopez threw a verbal haymaker at Loma on Instagram:
Here is how Lomachenko responded:

Lopez Is Favorite of the Gypsy Heavyweight King – Tyson Fury!
Reportedly, Tyson Fury is one of Lopez's biggest fans, and earlier this year, he declared Lopez as "the one man who could beat Lomachenko as he's a 'heavyweight on tiny legs'" 
Tyson appears to be confident that Lomachenko won't be able to beat him when both fighters go toe to toe with the Lomachenko vs Lopez live fight.
Here is what Tyson further said about the contender:
Do Not Forget To Get A VPN!
You have everything you need to know about the Lomachenko vs Lopez match and how you can watch Lomachenko vs Lopez live from anywhere. However, you need to remember that to stream the game without any issues; you need a VPN. It won't just give you unrestricted access with absolute security and anonymity, but allow you to defeat ISP throttling and ensure an unlimited bandwidth. A VPN ensures that you can stream like never before.
But, you can benefit from such features only if you opt for a reliable and trustworthy premium VPN such as Ivacy, which is fully capable of meeting and exceeding your expectations when it comes to streaming Lomachenko vs Lopez live.