How To Watch ESPN Live Stream Free Online From Location
Table of Contents:
ESPN live streaming is not available to audiences outside of the US. Not to mention regional restrictions referred to as 'blackouts' (more on that later) apply to those within the US. It is due to geo-restrictions in place. Those who wish to watch ESPN live stream free online via their cable TV subscription or on a fast internet connection cannot access ESPN live if they tend to be located outside of the US. Such is the severity of geo-restricted content. Imagine all the sporting action you are missing out on by not having access to ESPN live while traveling.
Call it monopoly or what you will, ESPN is a US-only channel so there is nothing you can do except, use a VPN  service for bypassing the geo-restrictions in place.
ESPN streaming is comprised of the following channels:
ESPN

ESPNU

ESPN3

ESPN2

ESPNews

ESPN Deportes

ESPN Goal Line

ESPN Buzzer Beater

Longhorn Network

SEC Network
In short, a sports fan cannot afford to NOT watch ESPN online. But don't worry. Here is what you can do:
Subscribe

to Ivacy VPN

Download

Ivacy on your preferred device

Connect to a server in the US

Enjoy ESPN live stream from anywhere
Why can't I access ESPN live stream Free?
ESPN reserves the right where to stream games and matches live. Moreover, the advertisement slots ESPN sells are carefully selected based on certain audiences and locations (in this case, US).
So if you are not the intended audience, chances are you will fail to watch the sports/ games on ESPN online. You will see the following message when you attempt to access ESPN:
This is where a VPN such as Ivacy steps in. With Ivacy your IP address is masked and your presence online becomes invisible. You will now see the following screen when you Unblock ESPN online:
Where Can I Watch ESPN Live Online?
In order to watch ESPN live online, there are different sources available where you can access your favorite sports. These include:
ESPN+

Watch ESPN

Sling TV

YouTube TV

Hulu + Live TV

PlayStation VUE

DirecTV Now – ATNTnow
We will now see each, individually. Also note, all of these mediums require a VPN service for accessing ESPN online.
1. ESPN+
It is a separate service that will cost you 4.99 USD per/month and 49.99 USD annually to watch ESPN live online. With a VPN such as Ivacy, you can unblock ESPN with ease.
It is easily the cheapest option for watching ESPN live online, although, by no means is it a replacement for ESPN streaming rather an extension of sorts. Once you gain access to it, you can unblock different series and live events.
In terms of live sports, it features games such as MLB, MLS, NHL, and PGA Tour golf tournaments. Moreover, ESPN+ will let you access sporting events like Wimbledon, the US and Australian Open, UEFA Nations Cup, etc.
For fans of the mixed martial arts, ESPN+ brings you on top of UFC Fight Night. It will work on all major devices: Amazon Fire TV, Android, Apple, and Roku.
2. YouTube TV
It is a paid service by YouTube that has a lot of live channels that you can subscribe to for 40 USD a month. It comes with ESPN and ESPN2 live stream, bundled together.
Additionally, the service gives you the ability to record games without any restrictions on storage.
Up to six accounts can be linked per household and you get a 30-day money-back guarantee, giving you ample time to decide if watching ESPN live stream on YouTube TV is for you. 
3. Watch ESPN
This is your main ESPN website/ app. Meaning, you can watch ESPN online by logging into your cable subscription. Outside of the US? Do not fear, a VPN will enable you to catch all of the ESPN live sporting action.
4. Sling TV
Yet another medium to watch ESPN streaming and is specifically designed for cord-cutters – individuals with no access to cable or satellite. Sling TV comes in different packages. The one which you should eye for ESPN live TV is Sling Orange.
Here you can watch ESPN stream by subscribing for just 25 USD a month on top of  20 additional channels (ABC, NBC, the CW, Fox, etc.). Furthermore, you can avail a 7-day free trial on Sling TV before making up your mind.
There is also a Sling Blue package but it only lets a single person watch ESPN live.
If you are to settle for an Orange + Blue subscription, you can watch up to four devices. It costs cheap when you have a group equally ESPN streaming crazy friends. Split the cost and enjoy ESPN live stream!
Devices supported are Roku, Apple TV, Google Chromecast, Amazon Fire Stick, and Fire TV, Xbox One, Xbox 360, Nintendo Switch, and iOS and Android.
5. PlayStation VUE
PlayStation VUE service is terminated from January 30, 2020
It can prove to be a costly affair for some folks. You get standard channels for 35 USD which includes both ESPN and ESPN2 live streams.
Furthermore, PlayStation VUE is only available to audiences in the US for which reason Ivacy VPN for PS4 should be your go-to service for accessing sporting events on your iOS, Android, Apple, and Fire TV or web browser.
PS VUE contains some 40 channels and you can access it on five different devices. The subscription also comes with a cloud DVR. If you want ESPNews and ESPNU live stream, you will have to subscribe to the Core 44.99 USD per month package.
Credentials for PS VUE can also be used to login into the WatchESPN app to access on-demand content. To make up your mind, you can avail its 5-day free trial and then decide if PS VUE is for you.
6. Hulu + Live TV
Hulu is a live TV streaming service in the US and packs access to ESPN live stream. Hulu can be watched in web browsers as well as on your Android, Apple TV, consoles and smart TV, etc. Use a Hulu VPN to bid farewell to geo-restrictions and watch ESPN.
Hulu was launched in the year 2017 and since it has revolutionized the concept of Live TV and packs channels such as FX, Syfy, and Food Network among others. Any standard package will cost you 44.99 USD and this includes a free first week.
Furthermore, it gives you plenty to make do with its 50 hours of Cloud DVR storage. Throw in an extra 15 USD p/mo and you have earned yourself the ability to expand storage up to 200 hours, plus you can skip commercials. Hulu with no commercials option is available as well.
Enjoy ESPN streaming alongside movies, TV shows, and must-see Hulu Originals.
7. DirecTV Now
Cable service by DirecTV, DirecTV Now does not involve a cable subscription in order to watch ESPN live. It is a standalone service and you can subscribe to it for 50 USD monthly that includes ESPN streaming and ESPN2.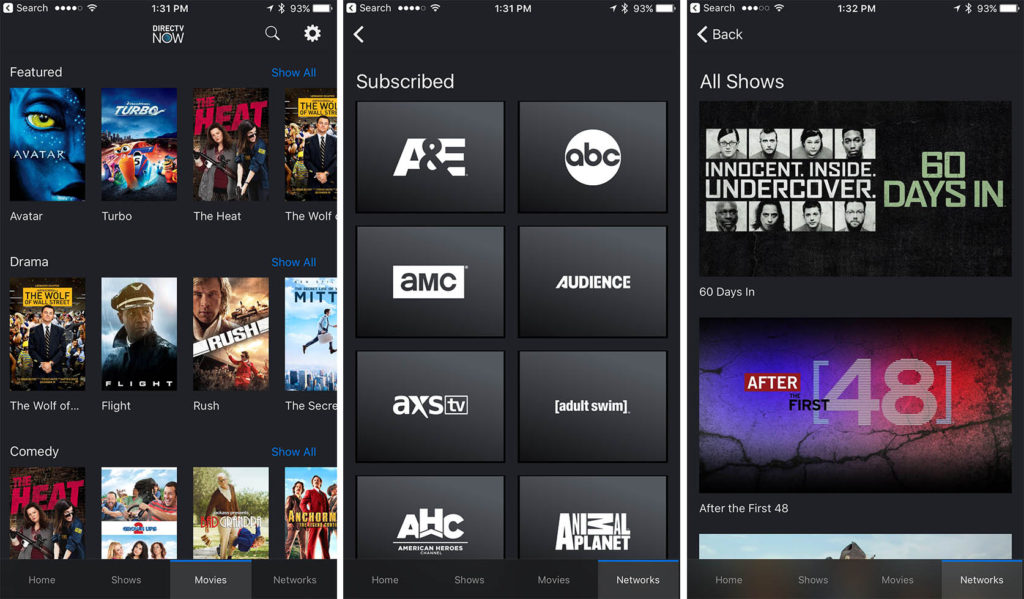 How to Watch ESPN Online Free
There is no way for you to watch ESPN live stream for free as it is a paid service. Nor you should prefer a free VPN service over a paid one. This is the question that gets asked the most.
Free VPN providers make up for their cost by gathering your data and selling it to third parties. Whereas a paid VPN service like Ivacy would never keep logs of its users. Instead, Ivacy VPN is in strict compliance with GDPR and has a 'No Browsing Logs' policy.
Also, free VPN has limited servers, does not offer a buffer-free streaming experience and neither offers unrestricted bandwidth. Ivacy, on the other hand, 1000+ servers in 100+ locations and is the Fastest VPN brand of the year 2019.
Therefore, for blazing fast ESPN streaming it is essential to employ a decent VPN. You get unrestricted access to content such as ESPN live TV and sports of all formats. 
Can I Unblock ESPN with a free Proxy service?
NO. It is because proxies tend to assign you a different IP address and that's it. What they lack is the security of a paid VPN. ESPN, as stated previously, has a way of figuring out if a person is behind a proxy and thus, blocks access to the desired content.
A Little about ESPN
Many don't know but ESPN got its big break when it earned the rights to NCAA Men's Division basketball tournament. ESPN NBA live stream made it a household name as the sporting event was broadcasted on millions of television sets and fans couldn't get enough.
Another smart move by the men behind ESPN- they started televising NFL Draft which became a hit over time. The sensation known as ESPN NFL live has grown to a point that today Sportscenter (its discussion and analysis segment), garners some 115 million viewers each month.
ESPN Live Stream Free: How To Watch ESPN Live Stream From Anywhere
WatchESPN app is for watching your favorite sports and games on your handheld devices. Although, the app is free to use – a cable subscription is essential and one with an ESPN package.
Again, to access the WatchESPN app you need to use a VPN. Here's how to do that:
Subscribe

to Ivacy VPN

Download

Ivacy on your preferred device

Connect to a server in the US

Enjoy ESPN live stream from anywhere
The said app is compatible with all leading devices such as Roku, Xbox One/ 360, PlayStation 4, Amazon Fire TV, and Apple TV. Where the devices are not supported, it is recommended to configure a VPN on a compatible router so that devices can leverage the encrypted connection.
Espn live stream free

: Can a VPN be Used to Bypass Regional Blackouts

Remember we made a mention of regional blackouts in the opening. Blackouts happen where a local broadcaster has the right to broadcast a game and another network such as ESPN cannot broadcast the same game to anyone in that region.

Fans of the local teams are thus, deprived of the event and subsequent sports action. In cases like these, Ivacy VPN is your best bet! Through VPN, the IP address of a blackout-free region is assigned whereby you can watch ESPN online with ease.
To Wrap it Up
ESPN Sports is watched by millions all over the globe and due to content restrictions, fans are faced with difficulties in accessing ESPN live online.
This is why the importance of a VPN in this context cannot be emphasized any further. Not only it lets you bypass geo-restrictions in place, but it also protects your interests online against ISP throttling, data snoopers/ surveillance agencies, and hackers – alike.
So get ready to experience ESPN streaming unlike any other and never miss out on any sports tournament, touchdown, or a goal, EVER!