How to safely carry out online shopping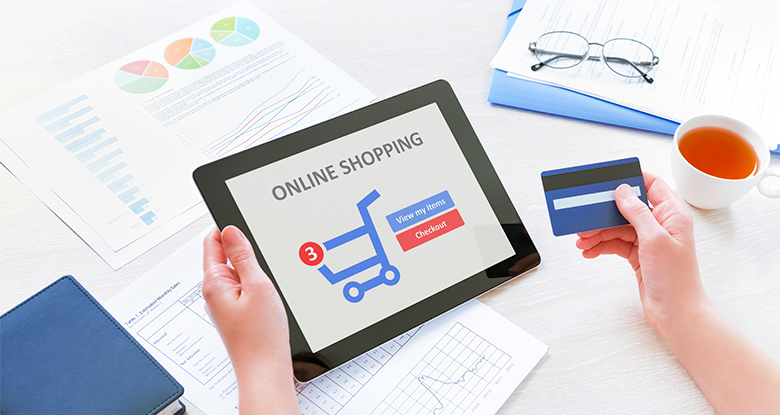 Convenience is one of the biggest factors that drive innovation. But some individuals would say that bringing everything on your mobile devices is killing the charm of practices that we used to do traditionally. One of such practices is online shopping.
Remember, when you used to plan everything in advance if you'd wish to go shopping on a particular day. Every one of us might have gone through similar experiences. You used to tweak and make changes in your schedule. Manage everything accordingly for that one way trip to that specific mall to buy something, and finding a friend to accompany you, who will suggest you the best stuff; stuff that suits you, looks good on you. Ah! Those were the days!
Well, it's not like conventional shopping is all dead! It's still there, I just exaggerated a bit. But, the times have changed. Online shopping has taken the world by storm.  Even if you are buying something online, you need to pay via credit cards. There are always some concerns involved in online shopping scenario. You need to decide what payment methods you will use, and are you perfectly secure to even carry out online transactions with surety?
Because, just like there are robbers and thieves on streets, there are hackers and data snoopers online, who are equally dangerous. How will you protect yourself from the dangers lurking online?
Don't worry! We have come up with some important guidelines that will help you carry out your online transactions without any fear and doubt.
1: Buy from a website that has a good credibility
Always read reviews of that particular website from which you are planning to buy something. What is the service level? Are customers of that website satisfied? Are their payment modes credible? Remember, a little research can really save your precious time, which otherwise you  could be wasting in asking for a refund.
2: Look for the HTTPS sign on the browser's address bar
HTTPS is a more secure protocol which is now a standard for every website. If you don't see an HTTPS sign on the address bar of that online shopping website, "DO NOT BUY FROM THAT WEBSITE!" I repeat, DO NOT BUY FROM THAT WEBSITE!" Do not give out any personal information on that website, for instance, your name, address, email, or, Address, your credit card number.  
3: Always perform any financial transaction using a VPN service
Using a Virtual Private Network (VPN) service ensures that no one is preying on you while you are shopping online. When you use a VPN, you are actually surfing the web anonymously in a tunnel where there is no intrusion. It is imperative to use a Good VPN Service to not only buy online but to carry out your everyday online activities safely.
In this digital age, your identity is as sacred and important as an asset that you own. You should never allow anyone to breach your privacy while you go shopping online. In this blog, we have listed three of the simplest methods to carry out your online shopping without any fuss. Take the final word! USE A VPN SERVICE!
If you know about any other methods that can help make online shopping easy and an enjoyable experience, do share your opinions and ideas in the comments.