Google's Pirate Update Fails to Punish Streaming Websites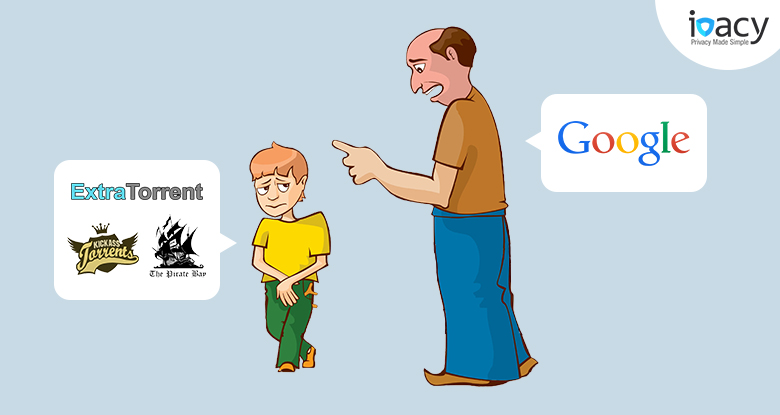 All the wrath is for torrent websites. Google's recent pirate update does not hit the illegal streaming websites hard.
First, it was torrent websites that were facing the wrath from the copyright owners. And now the focus has drastically changed. Now, JustWatch, a streaming search engine has come forward, challenging the supremacy of Google.
A report published by JustWatch reveals the fact that the visibility of torrent websites has drastically decreased on Google search engine results. Meanwhile, the number of search results for illegal streaming websites have increased. It is to be noted Google released its latest pirate update algorithm early last year.
As the situation stands, the ISPs and copyright owners have repeatedly asked Google to completely ban all illegal torrent and streaming websites.
Also Read: Copyright Owners want Google to ban 01 Billion Pirated Websites
Google on the other hand, holds the point of view that outright removal of complete website domains will result in across the board censorship, which would rather count as in contradiction of the basic right of speech and access to information. Hence the complete website removal is not possible.
Also Read: Google Opposes Whole-Site Removal of Pirate Domains
The results of the report show that torrent websites have lost a large number of traffic. The graph presented below highlights the visibility of top 20 torrent websites as per Google's search engine results. The top 20 torrent websites include, The Pirate Bay, KickAss Torrents, and other websites.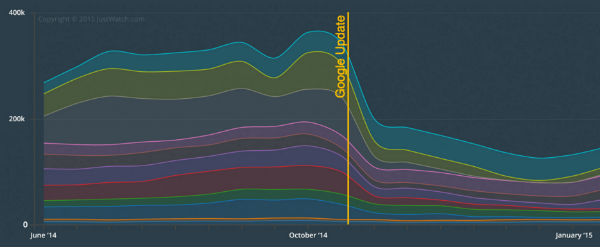 Meanwhile, the streaming websites, other than torrent websites, have not been affected by Google's new algorithm. The number of streaming websites in Google search results has increased by almost 15% as compared to that of torrenting websites.
Streaming portals including, Solarmovie, Couchtuner and Movie4k still remain in the top search results on Google. Take a look at the graph presented below.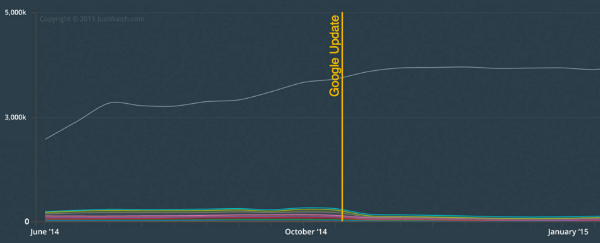 It is estimated that nearly a third of all user traffic to streaming websites comes through the search engines. It means that after Google's algorithm update, the user traffic via the search engine has increased to roughly three billion – a huge number by any accounts.
JustWatch, the search engine for streaming websites, wants Google to improve by implementing a more rigorous DMCA-like notice-based regime to rein in the illegal streaming websites.
The Chief Executive Officer (CEO),  David Croyé of JustWatch holds this opinion, "Google should stand by their word to use the DMCA takedown requests per domain and factor it stronger into their ranking signals."
People want pirate sites to rank higher and that's what Google's algorithm does at the moment. But that will eventually lead the anti-piracy advocates nowhere. All that is wanted is that Google provides a level playing field to compete  all the websites that offer an alternative streaming services against the free and illegal services.