All you need to know about Olympic Soccer
Association Football, or soccer, as we know it, is the game we all love. It has got a huge fan following. As the Olympic Soccer event commences, the soccer fanatics are ready to watch the exciting football matches, with their favorite stars scoring goals after goals amid cheerful celebrations. A large number of people also love to live stream Summer Olympic Games on internet and other smart devices to get latest updates about the events and results of their favorite sporting events.
Football in Olympic Games
Soccer was first played at the 1900 Paris Summer Olympics. Since then, it has featured regularly in all editions of Summer Olympics, except in 1932 Los Angeles Olympics.
Women's Football event was included for the first time at Atlanta Olympics in 1996, popularly remembered as Centenary Olympic Games.
Avoiding competition with the World Cup, FIFA has applied certain restrictions to the formal of the games, for example, the participation of elite players in the men's tournament is restricted and the eligibility criteria requires men to be under 23 years of age; with three applicable exceptions.
In Men's Football event, Hungary has been the most successful team with five medals, including three Gold Medals. Great Britain has also won three Gold Medals in Men's Football event.
In Women's Football at Olympics, the U.S. has been the most successful team to date. They have won four Gold Medals, in 1996, 2004, 2008 and 2012 Olympic Games. Norway won the Gold Medal in Women's Football at Sydney Olympics in 2000.
Overall, the U.S. leads the all-time Medal Table with seven medals, including four Gold Medals. Hungary and Great Britain hold the second and third spots respectively.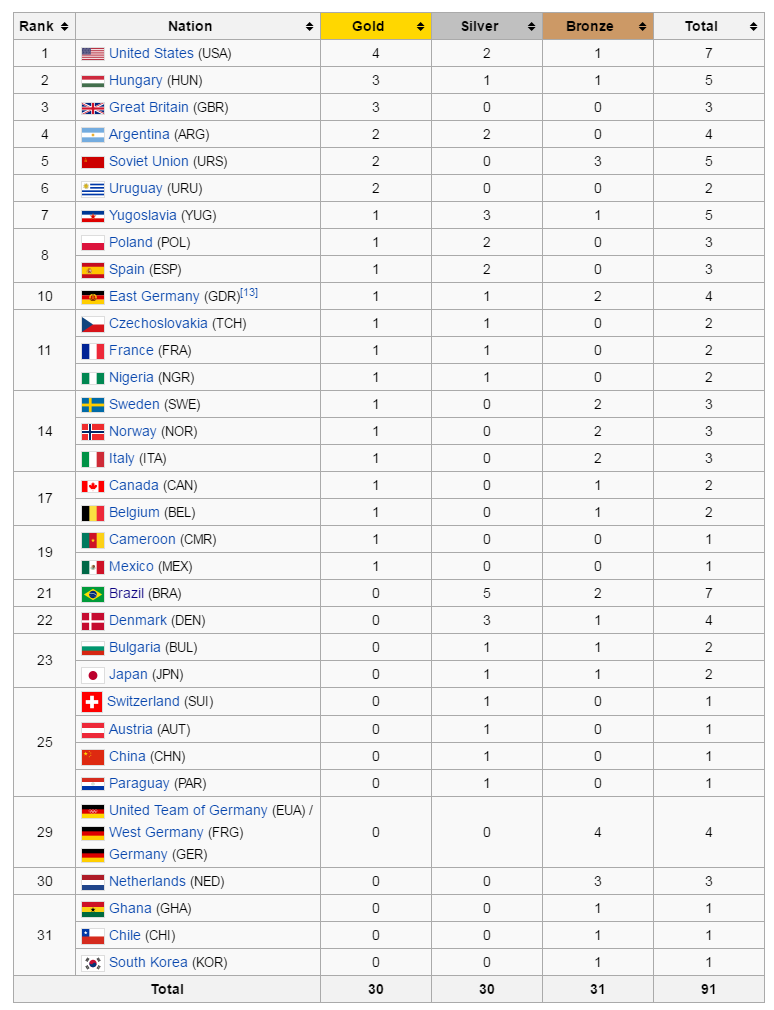 Football at Rio Olympics 2016
For Rio Olympics 2016, the Soccer event for both men and women will commence from August 03 and will continue till August 20, in various cities across Brazil. Two Gold Medals, one each in Men's event and Women's event will be awarded.
To make matters even more interesting, in addition to the Olympics host city of this year, Rio de Janeiro, matches will be played in several other cities as well including Belo Horizonte, Brasilia, Salvador, and Manaus to name a few. Almost all the cities hosting the current matches, also hosted matches for the 2014 World Cup.
As mentioned earlier, men's teams are restricted to under-23 players, this time around, with a maximum of three overage players being allowed to play. On the other hand, the women's teams enjoy no limits on age. Can't wait for the matches to finally begin? Check this: the games are made up of approx. 400 footballs!
Men's Football
Got your list of favorite male players that you've been waiting for years to watch compete against on another in the legendary Olympics? Hold your horses, the big day is JUST around the corner. To give bring you up to speed about this year's Men's Football teams, here's what we've gathered so far:
In Men's Football event, 16 teams will participate, which are divided into four groups, each containing four teams. Check out the groups and teams.
Group A: Brazil, South Africa, Iraq, Denmark
Group B: Sweden, Colombia, Nigeria, Japan
Group C: Fiji, South Korea, Mexico, Germany
Group D: Honduras, Algeria, Portugal, Argentina
Women's Football
Ladies, whoever said women's football isn't fun to watch clearly hasn't seen this year's women's football team line-up. If you can't wait for the games to begin already, we can relate. But as we wait together with our fingers crossed for the event to finally come alive, let's recap what we know about the 2016 Rio Olympics Women's Football tournaments:
The Women's Football event will feature 12 teams, divided into three groups of four teams each. Check out the groups and teams.
Group E: Brazil, China PR, Sweden South Africa
Group F: Canada, Australia, Zimbabwe, Germany
Group G: United States, New Zealand, France, Colombia
Why you need a VPN?
The so called online hackers are ready to attack you. You should be well prepared to safeguard yourself against them. One of the best options you have, is to use a virtual private network (VPN) while you are online. A VPN provides you with complete security and anonymity online. And with strong encryption that comes with the VPN, your online data remains safe as well. Start using a VPN now.
How to Watch Soccer Olympics Live Online
You just have to follow these steps:
Subscribe to Ivacy VPN account with your username and password
Download and install the Ivacy VPN app for your desired platform (Windows, Mac, Android, iOS, Linux, etc.)
Select the location and your purpose from the smart purpose selection tool
Click the 'Connect' button
Broadcasting Channels for Rio Olympics 2016
We understand if you really wanted to attend to the Rio Olympics in this host country; but even if you can't that's okay. The Rio Olympics 2016 will enjoy comprehensive coverage throughout the event for its millions of fans watching online and on TV, rooting for the teams they believe in from all across the world.
Want to snuggle in bed with some pizza and watch the Rio Olympics 2016 on your TV or online instead? Here are all the channels that will be covering the event!
With an active VPN in place, you can watch any of your desired sports on any channel and cherish the experience for your life time.