7 best Zombie flicks you can find on Torrents! Get ready for some Moans, Groans and Screams!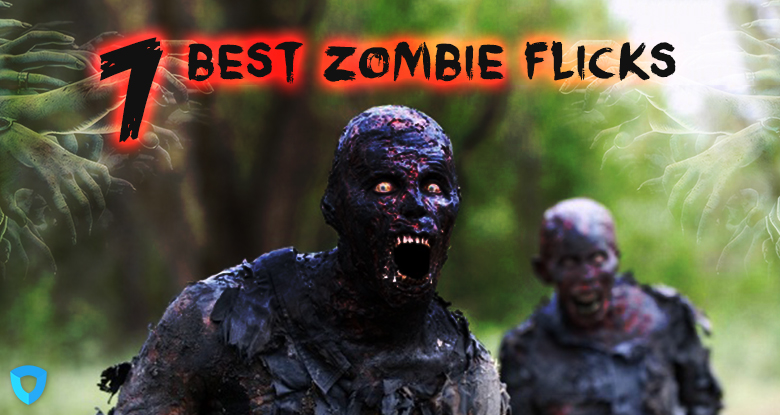 Table of Contents:
So, you're home alone at night, busy doing your daily chores. You can clearly hear crickets chirping amid complete silence in your neighborhood. You hear the wood creaking in the other room. Your heartbeat rises because there isn't anyone at home. You gradually start to follow the sound and ask with a muffled voice, "Who's there?" No one answers. There's absolute silence.
You liked the story. We all enjoy and like watching horror flicks. It makes our heartbeat rise and adrenaline pumping when we see someone trying to run away from a chasing ZOMBIE! 
So, watch these horror zombie flicks to fully enjoy the spooky Halloween season! We've compiled the list of 7 best zombie flicks that you can find on torrents.
Also Read: Best Torrent Sites for everyday use in 2021
1: Pontypool (2008)
This movie is based on the novel 'Pontypool Changes Everything.' The film starts with a radio jockey going to work in a small Canadian town. When a zombie outbreak hits, the DJ and his producers discover that the infection is language-based: Certain words and phrases have the power to infect others. The DJ realizes that if words can spread the virus, maybe they can also stop it.
2: Extinction (2015)
A zombie virus is capable of jumping between species and changing them into horrific mutants. The remaining survivors fight to stay alive.
3: The Horde (2009)
Horde is a French zombie flick. A group of police officers tries to capture a gangster but ultimately is forced to team up together to fight the zombie apocalypse.
4: Open Grave (2014)
A man wakes up in the wilderness, in a pit full of dead bodies. With no memory of how he ended up there, he must determine if the murderer is one of the strangers who rescued him or if he himself is the killer.
5: The Dead (2010)
An American mercenary, the sole survivor of a plane crash, has to run the gauntlet across Africa, battling with the living dead.
6: 28 Days Later (2002)
Four weeks after a mysterious, incurable virus spreads throughout the UK, a handful of survivors try to find sanctuary.
7: Rec (2007)
A television reporter and cameraman follow emergency workers into a dark apartment building and are quickly locked inside with something terrifying.
Final Thoughts
Well, we have only included the top 7 zombie flicks in this list. If you know about similar zombie movies, feel free to post your comments below. If you want to know what is torrent and how does it work click here.