10 upcoming Netflix Original Series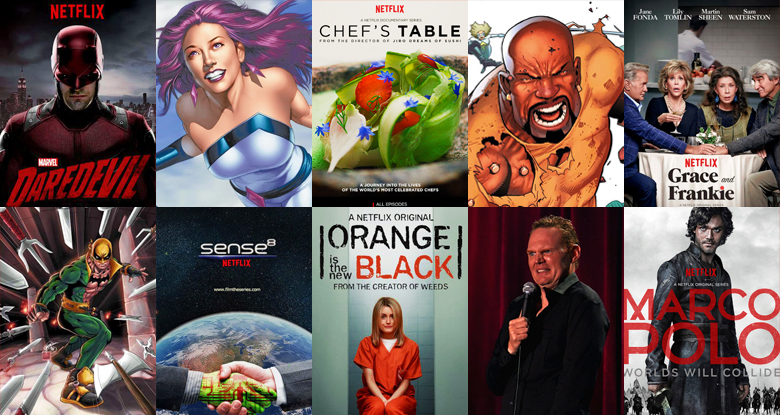 Netflix has become the biggest den of entertainment for those who like to binge-watch TV shows and movies online. Over 62 million subscribers from 50 countries stream about 100 million hours of web content every day. And a major chunk of the subscribers like Netflix because of its original content. So, we have made a list of some new original upcoming series that you can find on Netflix for 2015 and beyond.
1: Daredevil:
Netflix in collaboration with Marvel is bringing you five more shows based on characters from expanded Marvel universe. Daredevil starring Charlie Cox, was the first to hit Netflix. It is a story about a blind lawyer (Matt Murdock) who, as a child, faced a tragic accident, but gave him heightened super senses. So, with his great powers and abilities, he fights injustice and crime being a Daredevil. 1st season was great, and 2nd season will premiere in April 2016.
2: Jessica Jones:
Although the release date is not confirmed for this series, it's expected to air on Netflix in December 2015. It's another Marvel's classics that you should look forward to. Starring Krysten Ritter, the story is about a former woman superhero who gave up crime fighting and became a private investigator instead. Now, this is a real interesting series to look for because, Jessica Jones was the class fellow of Peter Parker (Spider Man), which also was her first crush, but how the chain of events will untangle and what fate would bring to her would be an interesting thing to watch.
3: Luke Cage:
Another character which is coming to life in upcoming Netflix's original series is Luke Cage, "Hero for hire". He would eventually end up being the husband of Jessica Jones! He will wreak havoc on criminals and fight injustice with his superhuman strength and unbreakable skin.
Netflix haven't disclosed the on-air date of this series too, but it is also expected to premiere in late 2015.
4: Iron Fist:
Iron fist is Marvel's Bruce Lee! He too fights crime with his impeccable fighting style and techniques. From the selection of the characters, it is highly possible that Netflix is planning to work on Marvel's storyline of "Defenders", a team of superheroes that includes Daredevil, Luke Cage, Jessica Jones and Iron Fist. Release date for this one is not disclosed yet, but it is highly unlikely that you would see it airing this year.
5: Chef's Table:
This show is a blessing for the foodies. In this series, you can explore the lives and kitchens of six of the most famous international chefs of the world. Each episode focuses on a single chef, their way of life, tastes, passion, and journey to the culinary heaven.
This series has already commenced from April 6th 2015.
6: Grace and Frankie:
If Marvel doesn't appeal to you, no worries! Netflix has a lot of other series in store for you; one of which is Grace and Frankie, starring Jane Fonda and Lily Tomlin, two rivals who come together as their husbands fall in love and trying to run off with each other.
This show is up on Netflix since May 8.
7: Sense8:
From the creators of The Matrix Trilogy, comes another spectacular blockbuster, Sense8. The story is about eight strangers who somehow get mentally linked with each other, and they must protect themselves from those who see them as a threat to the new world's order.
Its first episode was premiered on June 5th.
8: Orange is the new Black:
The third season of the Netflix's most popular comedy series, "Orange is the new Black", is back. In this series, you would witness the world of Piper Chapman and her experiences behind the bars.
The first episode of the third season premiered on June 12th.
9: F is for Family:
This is going to be an animated comedy series, based on a story of a middle-class family in the 1970s. It is based on the childhood of a standup comedian Bill Burr. This series is all set to debut by the end of this year.
10: Marco Polo:
The second season of Marco Polo is also expected to air in December this year. It's based on the story of the famous explorer's adventures in midst of the war in 13th Century China. This series will have 10 episodes packed with action, adventure and drama.
Unable to access Netflix?
It is a fact that Netflix is geo-restricted in several regions, so get Ivacy VPN to circumvent geo-restrictions and enjoy your favorite TV shows and movies with flawless speed and unlimited bandwidth.